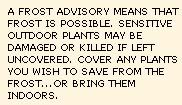 ...or suffer the consequences.
Tangentially related, I have no outdoor plants, but I have two here in our dorm room; Florence, an ivy I bought from Target, and Freddie, a spiky/grassy/palm frond-ish plant I got for FREE.
Florence thrived for a while under the wonderful sunning and watering I lavished on her, but now she's dying. 3/4 of her leaves are all shriveled up, and even the main stalk that was flourishing, is exceedingly limp. This makes me very sad, because I thought I was doing all the right things -- and now, this.
Apparently this has had a negative effect on Freddie as well; he's looking rather yellowish and droopy, too.
WHAT IS WRONG?! I'm putting Freddie up for adoption today (open adoption; I want to be able to visit his in his new home, see if they're killing him, too). I know he can have a better life somewhere else; but I'm still confused and hurt.
MARY, did you have something to do with this?